Dr Sharon Li is an acclaimed Obstetrician, Gynaecologist and Fertility Specialist
MBBS, GDIP (REPRODUCTIVE SCIENCE), RANZCOG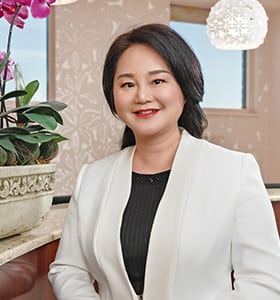 Dr Sharon Li is a female Obstetrician and Gynaecologist with a private medical practice located in Sunnybank, Brisbane. Dr Li gained her medical degree (MBBS) at the Sun Yat-Sen University of Medical Sciences in China in 1987.
Dr Li obtained her postgraduate diploma in Reproductive Science at Monash University in Melbourne, where she developed a strong interest in fertility treatment. After completing her diploma, she gained her Australian qualifications and became a Fellow of the Royal Australian and New Zealand College of Obstetricians and Gynaecologists in 2005. This inspired her to become a specialist and begin consulting from Sunnybank Private Hospital. She speaks fluent Mandarin and Cantonese and is very family focussed.
I absolutely love where I work and what I do, and I cannot imagine working anywhere else.
Dr Li is sympathetic to the unique and changing needs of women in her practice. Being a woman and a mother herself, she understands what women want. She is an expert in infertility, menstrual disorders, abnormal Pap smears and offers services in the latest keyhole surgery and reproductive technologies.
Outside of her practice, Dr Li enjoys spending time with her young family, keeping fit and gardening.
Every day is a highlight for me as I'm always thrilled to meet new expectant mothers and always prepared to support women battling difficult gynaecological conditions. I feel committed to providing my patients with expertise and support throughout every stage of their pregnancy or treatment. Every obstetric experience is unique for each pregnant woman. I feel extremely privileged to do this as my job every day.
Having an interpersonal skill of understanding the patient's differences and abilities is a regarded strength as a specialist. Through building a relationship with patients, I have found it encourages them to trust my advice on various aspects such as diet, activity level or disease prevention. I always feel determined to pay particular attention to detail and provide professional and personalised care based on individual needs.
My practice is a non-judgemental environment where different treatment choices are discussed. I incorporate my extensive medical skills and knowledge with my personal interest in order to build a better understanding of the issues that are important to women. Being a woman and a mother myself, I can completely understand what my patients are going through and I offer my personal experience and advice to further build that rapport and relationship with my patients.
Female Obstetrician and Gynaecologist Brisbane
Dr Sharon Li operates a private obstetrics and gynaecology practice in Sunnybank, on the south-side of Brisbane. She has brought together an all-female team of medical professionals who boast years of experience in women's health.
For more information about Dr Sharon Li and our service offerings or to request a personalised consultation, please contact us.